AHD on Tour: Countryside in Sherwood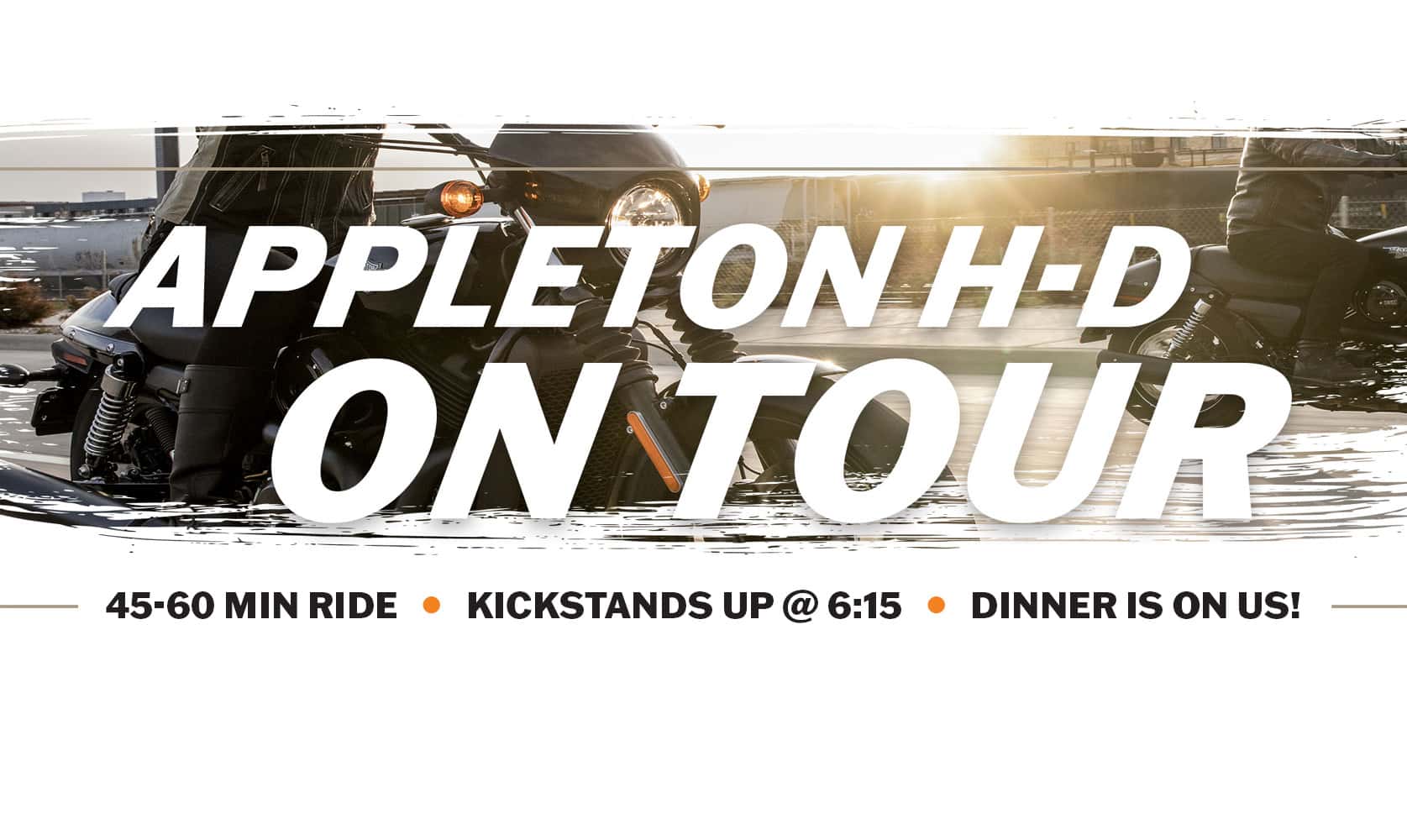 See All Events
It's that time of year again! Grab your bike and your buddies or come solo and make some new friends. Either way – it's time to RIDE!
Join us for an easy-going ride every other Wednesday on the backroads of Wisconsin. We're taking you to some of the best Bar & Grills this side of the state – recommended by our own AHD staff and customers, so you know they're good. Mark your calendars for our most popular ride series! Get together with like-minded people; share the road and grab some dinner, made by amazing local people.
The next ride is Wednesday, June 29th at Countryside Bar & Grill in Sherwood! Route details will be available here a few days before the ride. We use the H-D Ride app to share the route.
Free Meal*: BBQ pulled pork sandwiches w/ coleslaw & potato salad
*You must pre-register 24 hours in advanced to be guaranteed food.
How AHD on Tour Works:
Pre-register online here – so we can tell the place how much food to make =)

One registration per bike, including Rider and Passenger information. You can register multiple bikes if you'd like, just repeat the registration process per bike.
Everyone who pre-registers 24 hours in advance + arrives at the dealership to Check-In for the ride, will be entered in an AHD on Tour Pre-Register Raffle**!

Check-In and Registration are open from 5:30 to 6:00pm.

Everyone will need to have a signed waiver, one per bike. It includes a spot for both the rider and passenger. Once we have your signed waiver(s), you will receive your meal ticket and pre-registration raffle ticket, if eligible.**

Once you're done checking in, line up in front of one of the AHD on Tour cones – this is for staging, so we can get on the road as quickly as possible once ride instructions are complete.
Ride instructions will begin at 6:00pm.
Kickstands up at 6:15pm!
We'll arrive at our destination around 7pm, our rides are about 45-60 minutes long.
Once we arrive, you are free to do as you wish! Grab some food, grab a beverage, meet some new people, and enjoy your evening!
Rain Information
These events are rain or shine! In the event of bad weather, we will take a short route to our destination ~15 min. Feel free to bring a 4-wheeled vehicle, if you prefer. We will keep tabs on the weather throughout the day. We will send out an event notification via email and on our Facebook event to keep you informed.
You can also go directly to the destination, and check in there starting at 6:30pm if you are not attending the ride. An Appleton H-D employee will be there to greet you. Give us a call at 920-757-1651 for questions.
**Pre-Registration Raffle Info – Win a $250 AHD Gift Card

The earlier we know that you are coming, the better! If you complete your pre-registration at least 24 hours before the event, you will be eligible for the Pre-Registration Raffle to win a $250 AHD Gift Card! You can get a raffle ticket for each of the dates, so be sure to pre-register and attend all of them for your best chance to win!
To receive your raffle ticket, you must pre-register online AND arrive at the dealership to check in for the ride.
If you pre-register, but can't make the event, unfortunately, you are no longer eligible. ☹  You will have a chance for each of our AHD on Tour dates though! 😃
You must pre-register before 6:00pm the day before the Ride to be eligible.
This is cumulative throughout the AHD on Tour series, so you can enter it up to 7 times!
It will be drawn at our Finale event on August 24th.
You do not need to be present to win.
AHD on Tour Schedule 2022 – Mark your calendars!
June 1 – Antler's Sports Bar & Grill in Larsen
June 15 – Boondocks Bar & Grill in Symco
June 29 – Countryside Bar & Grill in Sherwood
July 13 – Hilby's Restaurant & Sports Bar in New London
July 27 – Angler's Bar & Grill in Fremont
Aug 10 – Bee Hive Barn & Grill in Neenah
Aug 24 – FINALE – Damn Yankees Watering Hole in Hortonville