Inside the Garage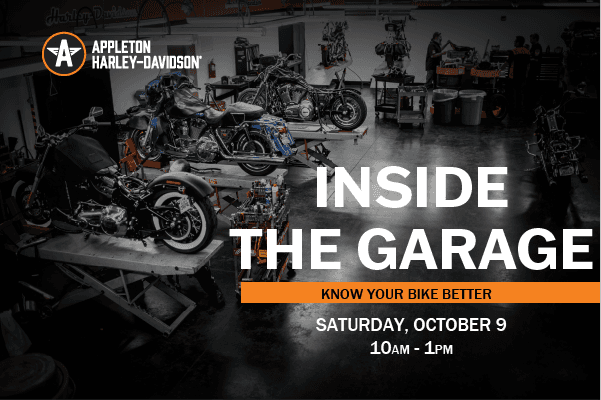 Inside the Garage is your chance to come into the Appleton Harley-Davidson garage and meet the experts taking care of your bike. There are 8 different stations with demonstrations ranging from motorcycle maintenance, customization, transport, infotainment set-up and use, winter storage, and more!
The event is Saturday, October 9th, from 10:00 am – 1:00 pm.
Upon walk-in/check in, you will receive a raffle ticket for raffle prizes! If you preregister for the event, you will get an additional raffle ticket for raffle prizes!
Event Specials
EVENT PARTS & SERVICE SPECIAL: Get a free $100 AHD gift card with new $1,000+ work order. (Parts/labor) This work order must have $1000 pre-paid and/or be paid in full the day of the event to receive the gift card. This offer cannot be combined with any other discounts or promotions, work must be in addition to winter storage specials, not available on current work orders or prior work orders). Gift cards can't be used towards new bike purchase. Some exclusions apply, see associates for details.
BONUS WINTER STORAGE WEEKS: Drop your bike off as early as the day of the event, that is up to two weeks of free winter storage!
Click here for more information on our Winter Storage packages.
Demonstrations Include
Infotainment
How to use the ride planner
How to install pre-planned routes
How to connect your phone
How to view bike information such as mileage, time/distance to your destination, engine info, distance since your last service, and trip summary (2019s & newer)
Rockford Fosgate
Learn about the different packages available for all touring bikes
Hear just how awesome Rockford Fosgate audio is compared to stock audio
Trailering and Travel
How to tie down a bike
Putting the bike in transport mode
Winter Storage
Tour our Winter Storage facilities
Learn how we winterize your bike
Motorcycle Maintenance
Learn basic maintenance you can do to your bike
Oil change demo (available at 11:00 am & noon)
Detailing, Paint Correction & Wash Station
Learn our process for detailing
Why taking care of your paint & washing your bike matters
Fitment
Super Shox install/comparison
Comparison between different seats, handlebars, windshields, lighting (LEDs & xglo), and highway pegs
Demo products available for viewing – schedule a demo with the Service department after the event
Performance
Learn how the different Stage kits affect your bike's performance
See one of the kits' parts all laid out
The Brat Shed will be open from 10am – 2pm, serving up their traditional fare as well as pulled pork sandwiches from Rubbin Butts & Blowin Smoke!